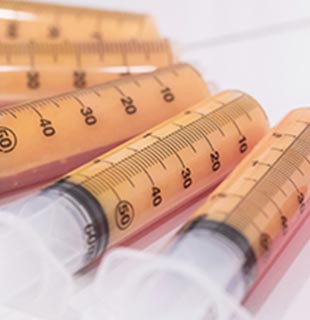 Since 2014
606,230
Units
(Reference 2020-03-31)
365mc LAMS
LAMS [Local Anesthetic Minimal-invasive lipo-Suction]
LAMS – A new obesity treatment method for liposuction removal developed by 365mc based on its 16 years of experience in obesity treatment.  LAMS integrated strong points of liposuction and non-surgical treatment with powerful know-how techniques of 365mc.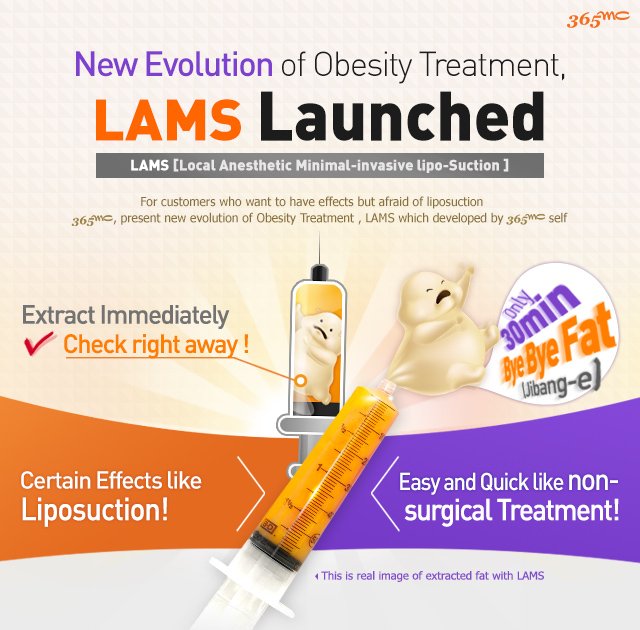 Local Anesthesia : Most people fear to get anesthesia due to unwitting condition. But, now there are no worries since local anesthesia is used in LAMS which keeps you awakened. Local anesthesia is one kind of medication friendly anesthetic procedure as like lidocaine that are injected through a needle or applied as a cream to numb a small area. It lasts for a short period of time so patients can feel comfort and easily do daily tasks right after the treatment procedure. So, one can feel very cool when taking Local Anesthesia.
Delicate Line Design : After completing the fat amount inspection and blood test process, delicate line design is conducted for each problem area. A precise measurement system is designed to point the fat extraction area. Afterwards before and after computerized image processed to target a verified result of LAMS. And then experts make small incision underneath the skin and slowly inject the lams liquid. Once this process has been completed, the surgeon then uses a cannula to remove the fat cells.
Liposuction without Incision : The LAMS is a non-invasive procedure that works as an alternative to traditional liposuction for multiple reasons. The incision of this procedure is so tiny that no stitch is required at all. That is why there is no swelling or bruising and no recovery period as well. Now a days many people prefer LAMS inserted over traditional liposuction for its outstanding benefits and easy recovery.
No Burden after Treatment : As there is no pain and no discomfort one can easily do the daily activities as usual. Even he/she also can go for shopping. So, you will have no burden in taking LAMS rather you will gain an obesity free healthy life style within a shortest possible time.
Process of fat extraction

Tunneling : Forming discharged tunnel by applying physical shock so that it helps to discharge in dept of fat
Extracting Fat : Immediately extract fat where you concerned
Dissolving Surrounding : Dissolve surrounding of extra fats by inserting specialized medical liquid for lipolysis
Extracting Dissolved Fat : Through the optimized aftercare Korean LAMS Disease treatment, it helps to discharge extra dissolved fats quickly from the body
Cycle : Once in a month